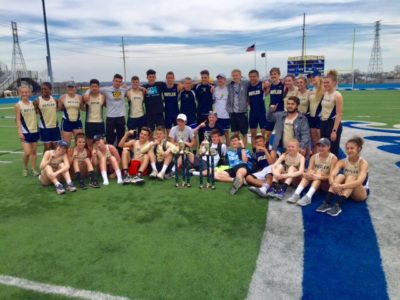 The Butler Girl's and Boy's Track & Field teams both won the Tri-State Track Coach's Association (TSTCA) Outdoor Championships.  This is the Girl's fourth Championship in a row at the TSTCA meet.  They have also won the TSTCA Indoor Championships three times in a row.  Butler led the 28 team field with 95 points, runner up Mount Lebanon at 79 points and South Fayette in third with 53 points.
The 4×800 Relay of  Chesna Tomko, Maggie Welty, Erin LeMay and Liz Simms  started the day with a gold medal performance of 9:41.40 – which is currently the fifth fastest time in the state this year. The 4×400 Relay team of Chesna Tomko, Maggie Welty, Maddie Tonini, Liz Simms wrapped up the day with a 1st in the relay with a PA #3 time of 4:01.33. In between were many outstanding performances highlighted by Chesna Tomko's 300 Hurdles second place finish at 45.61 – PA #6.
Liz Simms 1st place finish in the 800 at 2:18.94, Jena Reinheimer's toss of 133-11 for second in the discus is now PA #6 and Tabetha Wilbert's fifth place finish in the 100 hurdles at 16.06.   Anna Baxter contributed a fifth place in 300 Hurdles with a career best time of 48.33 while Alexia Mechling soared to 4-11 for fifth in the High Jump.
A big week lies ahead for the Golden Tornado with a dual meet at Shaler on Tuesday and then the 54th Annual Butler Invitational on Friday.

Butler Girls Results:
4×800 Relay – 1st place – 9:41.40 – Chesna Tomko, Maggie Welty, Erin LeMay, Liz Simms
100 Hurdles – 5th place – 16.06 – Tabetha Wilbert
1600 Run – 3rd place – 5:25.75 – Maggie Welty
4×100 Relay – 6th place – 51.89 – Chesna Tomko, Heidi Bednarz, Maddie Tonini, Liz Simms
400 Dash – 2nd place – 60.83 – Maddie Tonini
300 Hurdles – 2nd place – 45.61 – Chesna Tomko, 4th place – 48.33 – Anna Baxter
800 Run – 1st place – 2:18.94 – Liz Simms
3200 Run  – 7th place – 12:29.59 – Chelsey Kabel, 7th place – Autumn Pettinato 12:41.82
4×400 Relay – 1st place – 4:01.33 –  Chesna Tomko, Maggie Welty, Maddie Tonini, Liz Simms
Discus – 2nd place – 133-11 – Jena Reinheimer, 6th place – 105-4  Sarayne Forbes
High Jump – 5th place – 4-11 – Alexia Mechling
Javelin – 8th place – 104-2 – Heidi Gross
Long Jump – 7th place – 15-6 – Lucy Link
Pole Vault – 4th place – 9-0 – Samantha Penrod
Shot Put – 6th place – 35-4.5 – Jena Reinheimer
Triple jump – 6th place – 33-0 – Lucy Link
Team Scores.  1.  Butler 95  2.  Mount Lebanon 79  3.  South Fayette  53