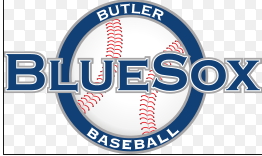 The Butler BlueSox won their fourth game in a row last night following a 6-4 victory over the Chillicothe Paints. Butler grad Wyatt Daugherty earned his third save of the season, striking out three over the final two innings. After an off-day today the BlueSox host Champion City Saturday at 7:05pm. West Virginia will visit Sunday for a 4:05pm game.
Vintage baseball returns to Butler's historic Pullman Park on August 25th. The Allegheny Ironsides and the Butler Barons are going to play by 1860s rules and equipment. There will be entertainment inspired by the 1860s throughout the game.
Members of the Butler Barons team are – Matt McCune, Tyler Friel, Brian Zima, Steve Hall, Randy Collins, Cody Herald, Nate McCullough, Burt Hollobaugh, Josh "Sluggo" Smith, Mike Sikorski, and Jim Shearer.
Gates open at 5:45 and the game will start at 7:00 p.m. The concessions stand will be open for this fun event.
You may purchase tickets at the Butler County Historical Society at 123 West Diamond Street, or at Kelly Automotive Park.
Adult tickets are $6.00, Senior tickets are $4.00, Students (10-18) -$4.00 and children 9 and under are free.