Our local senators are weighing in on the highly emotional day of Senate testimony on Thursday between California professor Christine Blasey Ford and Supreme Court nominee Brett Kavanaugh.
Democratic Senator Bob Casey tweeted Thursday evening saying he believes Dr. Ford. It went on to say "it is appalling that the White House and Senate Republicans would move forward with this nomination without an FBI investigation into these allegations." He said he will vote against Kavanaugh's nomination.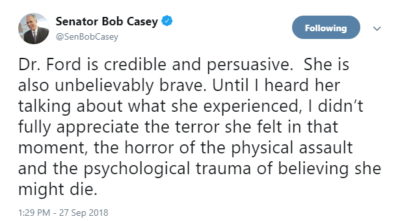 The Republican senator from Pennsylvania Senator Pat Toomey said in a statement that he will be voting to confirm Kavanaugh, who he says has "exemplary character." He went on to say that while he found Dr. Ford's testimony to be sincere and moving, he believed it lacked important specifics.
Toomey's statement:
"It was appropriate for Judge Brett Kavanaugh and Dr. Christine Blasey Ford to appear before the Senate Judiciary Committee as the final step in the committee's investigation of Dr. Ford's allegation. Both Dr. Ford and Judge Kavanaugh are to be commended for testifying under such unfortunate and avoidable circumstances. Neither they, nor their families, deserved to be victims of this shamefully politicized process.
"I found Dr. Ford's testimony to be sincere and moving, but lacking important specifics. Judge Kavanaugh's repeated and unequivocal denial was also sincere and very persuasive. In addition, Judge Kavanaugh's testimony has been corroborated and Dr. Ford's testimony has not. All of the witnesses she claimed were present, including her lifelong friend, either failed to corroborate, or refuted, her testimony.
"The other allegations against Judge Kavanaugh are either completely unsubstantiated or preposterous.
"Taking into account today's testimony and everything else that has been presented about Judge Kavanaugh's exemplary character and record, I look forward to voting to confirm him to the Supreme Court."