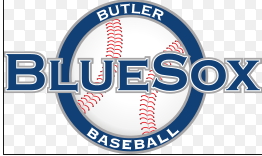 The Butler BlueSox are one victory away from the Prospect League Championship following a 14-1 victory over Lafayette last night. The Sox pounded 18 hits in the game, and built a 12-0 lead after the first two innings. Four Butler batters had three hits in the game. Starting pitcher Pavin Parks tossed a complete game, scattering eight hits and striking out eight. In the game, the BlueSox set championship game records with nine doubles and five double-plays.
The Sox will host the Aviators for game two Saturday at 7:05pm. Knoch graduate Alex Stobert will be the starting pitcher for the Sox Saturday.
IF there is a game three necessary, it will be played at 4:05pm Sunday. Both teams are playing for their first league championship.
Tickets are available at butlerbluesox. net or by calling 724-256-9994.