Scott Briggs, Vice President, Broadcast Operations
I began my radio career with the Explorer's Group in the early 1970s, and was a news intern at WISR in January of 1976. From 1979-1981 I worked part-time in the evenings at WBUT, and began doing high school football broadcasts in 1982, covering Butler on Friday nights and Knoch on Saturdays. I still do play-by-play for Knoch football and basketball on WISR.
I am a graduate of Knoch High School, Westminster College and Clarion University. After retiring from Butler County Community College, I became part of the ownership group that purchased WISR, WBUT & WLER in January of 1998.
Outside of the radio stations, I am a member of the Butler County Emergency Communications Council, a life member of the Saxonburg VFC, and a Public Information Officer for the Butler County Emergency Management Agency.
I currently live in Valencia with my wife, Sue. We have three sons (and daughters-in-law), and four grandchildren.
Contact Scott at sbriggs@bcrnetwork.com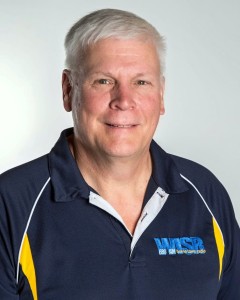 Bob Cupp, WBUT Program Director, Breakfast Club Host
In 1984, I began my career with the Butler Media Group. I am currently the program director for WBUT and morning show host of the Breakfast club from 5:30-9:00 weekday mornings. I can also be heard on The Rock Station as the Rock Doctor weekday afternoons, and as host of our Grass Roots program on Sunday evenings.
I'm a graduate of Buttler High School and Slippery Rock University. I love enjoying life with my wife, Betsy, our sons RJ and Jeffrey and our dogs, Fluffy and Moose. I enjoy bowling, I love music and exposing people to music they may have forgotten or never heard!
Something people may not know about me…I'm terrified of speaking in public!
Contact Bob at bobcupp@bcrnetwork.com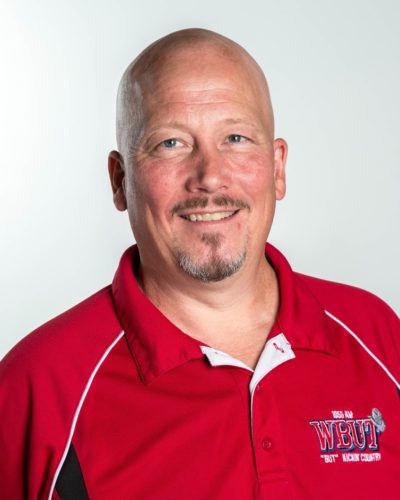 R.J. Cupp, Board Op
I began working here in 2010. I graduated from Butler High School and am currently a student at Butler County Community College.
I'm a huge fan of all Pittsburgh teams, and enjoy Media Arts. I live in Butler with my parents and brother.
Something people may not know about me: My full name is Robert James Stanley Cupp!
Chelynne Curci-Lang , Media Consultant
I joined Butler Media Group at the beginning of 2015 as a Media Consultant. Everyone keeps calling me Franko's replacement, but really no one can replace Mike. My previous jobs included Main Street Manager for Butler Downtown, Marketing Manager for Armstrong, and Assistant Store Manager for Starbucks Coffee Company. I have a B.S. in Business Management from Grove City College and a M.S. in Organizational Leadership from Geneva College.
In my spare time, I enjoy volunteering. I serve on the executive boards of the GFWC Junior Women's Club of Butler and the Associated Artists of Butler County. My husband, Brad, and I love to travel and we love good food. Most of our trips are planned around restaurants, breweries, wineries, and distilleries. Our favorite place to visit is California. I am also a social media junkie – friend or follow me on Facebook, Twitter, Instagram, LinkedIn, or Snapchat.
Something you may not know about me is that I have a fourth degree black belt in Tae Kwon Do.
Contact Chelynne at chelynnecl@bcrnetwork.com
Tyler Friel, Weekends
After long considering a career in proctology, my biology teacher said I should go into a field that is so far removed from science that no one would ever be able link her to my education. It also turns out the radio gig complemented my ability to maintain a conversation with the classmate next to me while completely ignoring her instructions.
I attended Butler County Community College, where I pretended to know what I was doing. In the fall of 2014 I will attend Slippery Rock University because my parents say "a good education is invaluable." I guess they know what they're talking about.
I started working here in 2012 but I didn't get paid until 2013…and I still have a beef with management! , I anchored the hard hitting 7:00 and 12:00 Sunday news on WBUT and WISR. There I learned how to read and write in a way that is not overtly offensive to the listening public, and then management deemed me fit enough to play music for the young folks, but not on a permanent basis because, let's face it, no one could ever listen to me for more than a day at a time anyway…and people say I have a face for radio (the joke just seems to get funnier every time). In all honesty, I'm amazed at what I get to do. There's something special about radio. If a song or story makes a person's day a little better or if complaining about me gives them some satisfaction, it makes it all worth it.
I enjoy long walks along the Connoquenessing and playing in my jai alai league at Cubs Hall on Saturday nights. Family wise, I have no kids, which my mother is ecstatic about because I'm 20 years old. I have a mom who's a teacher with complete dedication to her job and a dad who's an accountant with a sense of humor that is fit for a man in finance. My brother, who is my college roommate, works a mop like no other in the summer. And a sister, whose body seems to be in complete ruins after every work out. They are my best friends.
Something people may not know about me…I met the last 4 U.S. presidents on separate occasions when each invited me to discuss foreign policy issues in the Middle East at Camp David. I also have an extraordinary amount of time on my hands to write a biography that took up an entire page that critics will praise as tolerable and describe as loosely based on a true story.
Contact Tyler at tylerf@bcrnetwork.com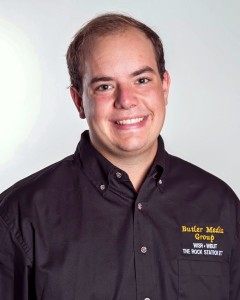 Kathy Gregory-Steiner, Corporate Development Manager
What began as a casual relationship with the Radio Stations…back in 1996 (we think!)…blossomed into a long-term relationship! WISR was then on Main Street and I got a call from the Owner and General Manager asking me to come in and talk. I did. Reluctantly, I fell in love with everything about radio. I was already a news junkie and the fact that the news was always right at my fingertips made for a great ride! Soon, I became entrenched in all the day to day operations. That's where it all began.
I am now the Corporate Development Manager for the Butler Media Group, WBUT / WISR / The Rock 97.7. I also do a morning show on WISR, "Coffee with Kate" and have blabbed my entire life out over the airwaves (some things are better left unsaid…but NO…I've told it all). I have served on the Board for the Butler County Humane Society, the Associated Artists and the Blind Association.
Currently, I reside in Center Township with my husband…and the love of my life, Abbie K. Abbie K (Abigail MacKenzie) is a purebred Border Collie who has a command of the English language better than most humans I know! She has become quite famous and enjoys her long walks every morning with me and Frisbee… every morning… thru rain, snow, sleet and hail! UGH!!!. I am the very proud mom of two wonderful grown children, John (who resides in Butler) and Jessica (who now resides in Richmond, VA)…and my wonderful grandson, Colton, who is my soulmate…my buddy and my teacher in Computer Science!!!. I'm also lucky in the fact that I have 2 step grandchildren, Stephanie who resides in California and Lukas who is now 3 years old.
Something you may not know about me…I LOVE football (The Steelers), politics, beer, music and dogs. Did I mention wine? That too! I love social media…and love having friends all over the world…and I love what we do here at the radio stations!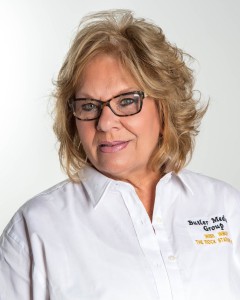 Vicki Hinterberger, President & General Manager
As part of my relocation into the Witness Protection Program, I was placed with the Butler Media Group in 1996. I was told that I didn't fit the "radio mold", but I proved them wrong…as I'm still here! As General Manager, my main job is that of zoo keeper, making sure all the animals are taken care of.
I am a PSU graduate with a degree in Business Administration. I have been happily (mostly) married to hubby, Steve for 27 years. We have two sons who, after graduating from the great PSU, migrated to Buffalo, NY (why would they move to a COLDER climate?!) for their careers. The curse of our long last name was recently bestowed upon Maggie Neese of Mars, when she agreed to take our oldest son for better or worse. No returns accepted!
I love cooking, eating, trying new specialty drinks and family vacations to anywhere with a palm tree. I'm an avid sports fan of the Pirates, Steelers, Penquins and Nittany Lions, and enjoy shopping, swimming, entertaining, and reading. I have a passion for volunteering and helping local non-profits raise funds for projects. I am a member of the YMCA Board of Managers, the YWCA Board of Trustees Chair, the Butler County Tourism and Convention Bureau Board of Directors, Butler Health System Foundation Board of Directors, and the Women United Purses for a Purpose event coordinator.
I'm currently in discussions with NBC regarding a sitcom about our crazy radio stations–think WKRP in Cincinnati, but funnier and based in Butler. Oh, the stories I have to tell–I know an Emmy is in my future!
Something people may not know about me…I love playing cards & games–to win, of course! I am a part-time germaphobe. And, I collect cookbooks from all over the world, and have one from about half of the states.
My favorite quote is by the great Dr. Suess…
Be who you are and say what you feel, because those who mind don't matter and those who matter don't mind.
Contact Vicki at vickih@bcrnetwork.com
Henry Ibinson, Weekend News
I started with the Butler Radio Network in 2014 as a weekend news anchor and board operator for our family of stations.
My career in radio started in 2013 with the student run radio station at Slippery Rock University, WSRU.  During my college years, I hosted a weekly sports talk/rock show, "Hank's Huddle," and served as Sports Director while calling SRU football and basketball.  I graduated from Slippery Rock in 2017 and work full time as an accountant outside of my position with Butler Radio.
Before my time at Slippery Rock University, I graduated from Knoch High School, and played football and basketball throughout my high school years.  I have fond memories of hearing my name on WISR 680AM, which I believe started my love of radio broadcasting.
Something you may not know about me is that I'm an extremely lucky person, and I have won many contests and prizes. The Powerball Jackpot may be next.
Contact Henry at henry@bcrnetwork.com
Lisa Marie Kendrick, Media Consultant
With nearly 20 years experience in the world of PR, marketing and communications, I have had the pleasure of working for the Public Relations department at BC3, as Marketing Coordinator for Armstrong and as Director of Marketing & Communications for Blue Bird Bus Sales of Pittsburgh, Inc. However, my three-year hiatus of being a full-time Stay-At- Home-Mom, has been my best, most rewarding, most fulfilling and most exhausting position to date! Remember, I'm new to "sales"!
With a LOVE of learning, I have earned an Associate degree in Communications from Butler County Community College, a Bachelor of  Science in Human Resources Management and a Master of Science in Organizational Leadership, from Geneva College respectively, as well as being a member of the Leadership Butler County Class of 2007. My educational experience (and cohort-style learning) have certainly helped shape and prepare me for the many roles I have taken on thus far.
I live in Butler Township with my 3 beautiful daughters – Mallory, Maizie and Maeryn – and 1 (lucky) husband, Mick. Since I have no spare time, I have no hobbies or interests other than my kids and family…oh, and Febreze and tequila (not necessarily in that order)! Seriously, though, I am super excited to begin a new chapter of my career with Butler Radio Network.
Contact Lisa Marie at lisamarie@bcrnetwork.com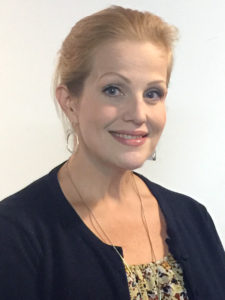 Jay Kline, The Rock Station Program Director, Morning Show Host
I've been in the radio industry for 25 years and have stayed local from Pittsburgh to Youngstown. I am in love with the two of the most beautiful girls in the world…my wife, Amanda and our daughter, Avery. We are first time parents trying to get it right. I have been truly blessed.
I love a good beer…sorry, no Coors Lite!…wine, and hanging out with good friends at dinner.
Something people may not know about me…Believe it or not, I never listen to music outside of work! I hear too much of it during the week.
Contact Jay at jkline@bcrnetwork.com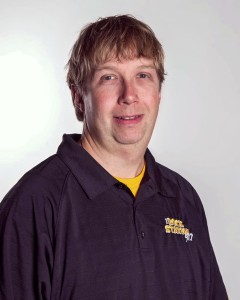 Dave Malarkey, WISR It's Your Turn & Morning Show Host
I have been on the air at WISR for 30-plus years. I am a native of Parker, Pa…the smallest city in Pennsylvania. I graduated from Penn State with a degree in Communications and Broadcast Journalism.
I am current member of Connoquenessing Creek Watershed Flood Control Authority, the Butler County Local Emergency Planning Committee, a past board member and president of the Butler Musical Theatre Guild, and a past board member and chairman of the Butler Little Theatre.
Recent good reads include, "The Dead" by James Joyce; "In the Shadow of the Glen" by J.M. Synge; and "A Good Man is Hard to Find" by Flannery O'Connor, and my addictions are golf and Isaly's chipped ham.
These are a few of my favorite things…A pint of Guinness and singing in my church choir (not necessarily at the same time.)
Contact Dave at davem@bcrnetwork.com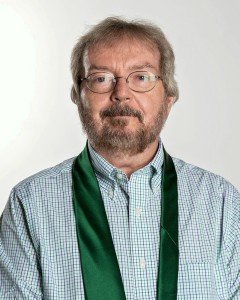 Kayla Molczan, News Director
I started with Butler Radio as an intern during the summer of my senior year in college in 2010. They must not have hated me because they asked me back! I started working part-time in various facets in 2011 and became a full-time employee in the News Department in February 2013.
I always knew I wanted to do something in the journalism field since I was a kid. My family used to call me "KDKA-Kayla" because I would always "report" back to my parents and aunts/uncles everything that happened while playing with my sisters & cousins as a kid- how annoying! I'm proud to say I was part of the first television morning news team Butler's Northwest Elementary School ever had as a sixth grader! I graduated from Butler High School and then Bowling Green State University with a bachelor's degree in journalism, with an emphasis on TV-News. I've interned at KDKA-TV in Pittsburgh, WCBS-TV in New York City and with Butler Radio- which is how I ended up here! I like waking up every morning (at 3:30 a.m.) not knowing the direction my day will go. Pair that with the fact I get to talk to people for a living, makes one happy girl!
Being a Butler girl born and raised, I'm happy to be working in my hometown. After moving away for college and interning in NYC, many have asked what keeps me here when there's a "whole world out there." I love being close to my family and I love the people in Western Pennsylvania (OK- not ALL of the people!) That being said, I do like traveling as much as I can! Also pretty cool in my book: great concerts with good company, trying new restaurants and breweries and spending time with the people I cherish most : )
Something people may not know about me…I'm a proud alumnae of the Kappa Kappa Gamma Sorority- which truly left me with lifelong friends & college memories I'll never forget! In addition to the sisters I gained in college, one of my actual sisters is a professional dancer, who is employed by Holland America Cruiselines and makes a living by traveling the high seas- from Alaska to the Caribbean. My other sister is on a path to become a doctor…And all I do is talk! : )
Contact Kayla at kaylam@bcrnetwork.com
Tracey Morgan, WISR Noon News & Let's Talk Host
I have worked in radio for more than 20 years, and have been with the Butler Media Group since 2011. I anchor the WISR Noon News, am the host of WISR's Let's Talk program, the afternoon DJ on the Rock Station, and assist the news department.
Other projects include producing God With Us radio program for St. Luke Lutheran Church and School in Cabot. I also produce radio broadcasts and podcasts for A Voice In The Storm, a non-profit organization based in Butler County.
I am married and have two sons. I enjoy water and snow skiing, at one time I owned a quarter horse that I showed in Western Pleasure classes, and i love to bake!
Something people may not know about me…I spent about 15 years of summers at Slippery Rock Campground Association.
Contact Tracey at tmorgan@bcrnetwork.com
Patrick Parker, Superstore & Phone Party Host
I started working here in 1987. I graduated with a Bachelor's Degree in Speech Communication:Emphasis on Radio and Television from California University of Pennsylvania in May 1987.
I run sound at North Street Christian Church, occasionally read at Graceway Church, and am one of the PA announcers at The Big Butler Fair.
I enjoy playing racquetball and church league softball.
Something you may not know about me…I played three years of soccer at Vincentian High School and I was on the Debate team in college.
Contact Patrick at pparker@bcrnetwork.com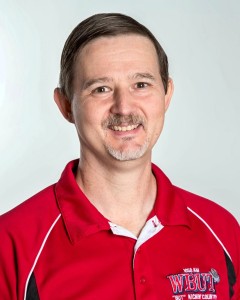 Ryan Saeler, News Reporter
I started my radio career after graduating from Westminster College in 2002. I've held positons doing promotions, production, board operation and producing at KLBJ in Austin as well as ESPN Radio and CBS Radio in Pittsburgh.
I live in the Crafton/Carnegie area with my wife, Nora and our conure bird, Beaker. I enjoy reading, writing, watching movies and running. I have lots of family in and around the Butler area, so chances are you know someone I'm related to. I joined the Butler Media Group in 2014 and am excited to be covering news in my hometown.
Something people may not know about me…My middle name is Starr.
Contact Ryan at ryans@bcrnetwork.com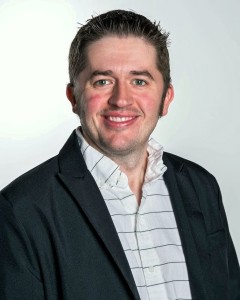 Anthony Willison, WBUT Saturday Mornings
I started working here as Board Op in 2003. It was my first part-time job while I was still in high school. I started out working the board for sports broadcasts on nights and weekends, and then moved into the Saturday morning on-air position. I still work Saturday mornings (and Friday nights during high school football season) in addition to my full time job with a masonry restoration company.
I am an avid bowler with one 300 game under my belt, and even work part-time at a local bowling center. I love music of all types from Avenged Sevenfold and Slipknot to the music of the 80s Hair Bands. You'll catch me singing along to Joe Diffie and even Petula Clark, and every Saturday morning on WBUT you'll hear at least one song from the great Roger Miller! I love going to concerts and my biggest pet peeve is open-mouth chewers!
Something you may not know about me…I play piano and guitar.
Megan Willison, Digital Media & Promotions Coordinator
After years of being a stay-at-home mom, I began working here part-time in 1999. I started out answering phones and working the front office, and now handle the design and maintenance of our five websites, and coordinate the promotions and events for our three stations.
I've lived in Butler all my life and have been married to my husband, Ron for almost as long! We have three children, Anthony, Katie and Andrew.
I enjoy spending time with my family, cooking and baking, doing home improvements, and quiet time on the deck watching and feeding the backyard birds. I think I have tried every craft out there including painting, sewing, crotcheting, scrapbooking, stamping, and floral arranging.
Some  things people may not know about me…I had my 15 minutes of television fame when I was featured in a series of TV commercials for a local grocery store chain. I took a cake decorating class when I was 14 and have been decorating cakes for every family function, holiday and birthday since.
Contact Megan at meganw@bcrnetwork.com