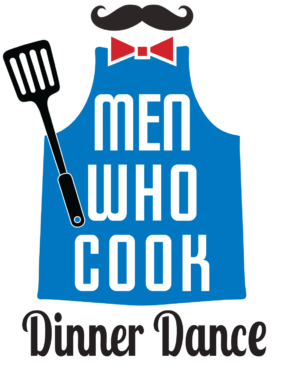 Men Who Cook Dinner Dance

February 17, 2018    6:00pm
Butler Vagabond Center
BYOB (mixers provided)
Presale: $20 per person  $25 at the door
**Online ticket sales are now closed**
Presale tickets can be purchased at our studios
until 5:00 p.m. on Friday, Feb 16.
Tickets the day of the event are $25
Includes samples from all of our cooks
Please bring a non-perishable donation for the
St. Vincent de Paul Food Bank.
Fundraising proceeds benefit the St. Vincent de Paul Food Bank
Presented By

The Men Who Cook Dinner Dance is a fun event that benefits St. Vincent de Paul's local food bank. All attendees are asked to bring a non-perishable item to donate.
We've rounded up local men in our community who love to cook. Our lineup includes community leaders and businessmen who will showcase their culinary abilities for this good cause.
The BYOB event begins at 6:00pm with all of our men offering samples of their "specialties." Each attendee will receive a ticket to vote for their favorite dish. The winner will receive the The Golden Fork Award and official induction into the MWC Hall of Fame.
After the sampling and voting, stick around and enjoy an evening of music and dancing with DJ Pat Gallagher. There will also be a basket raffle with proceeds benefiting the St. Vincent de Paul Food Bank.

Just a few of the baskets in our raffle
Tickets for the event are available at the Butler Radio Network studios at 252 Pillow Street and online HERE.
Meet The Men
Partial list…more to be added
Kevin Boozel, Butler County Commissioner
Momma's Meatloaf
Ray Schwickrath, Armstrong
Hillbilly Chili

Larry Sassone,

Butler Blue Sox


Chicken Katsu

Mark "Sparky" Mares,

PennDot


Hot Sausage Soup
Mike Panza, Retired Moniteau School District Superintendent
Mini Cheesecakes with variety of toppings

Bill Longstreth,

Sir Speedy Printing


Kabobs

Jimmy Chiprean,

Miller's Shoes


Hot Sausage Pasta
Brian Ellis, State Representative
Heart Healthy Turkey Chili & Mini Cornbread
Jack Hutchinson, Butler Post Office
Irish Sliders

Jim Osche,

Butler Twp Volunteer Fire Dept


Assorted Cakes

Pat Gallagher, Co-host PG's Playhouse on WBUT
Gullets
John Gibson, St. Vincent dePaul 
Mushroom Crostini
Steve Hinterberger, Optometrist
Sloppy Giuseppes
Butch Rocco, Local Classic Car Enthusiast
Pasta Delight
Gary Schneider & Mike Whitmire, Schneider One Hour Heating & Air Conditioning


Cowboy Beans

Dave Malarkey, WISR Radio Host
Irish Cake Shots
Howie Dittman, Helping Butler County
Garlic Beef Enchiladas, Chili, Hot Ham & Cheese
Tyler Friel, Butler Radio Network, Media Consultant
Cauli Fried Rice
Ryan Saeler, Butler Radio Network, News Reporter
Haluski
Pat Parker, Butler Radio Network, WISR
Chicken Burrito Bowl
Jay Kline, Butler Radio Network, The Rock Station
Beans & Greens
Jeff Double, All About Reclaimed
Gourmet Brownies
Our men are fierce competitors, vying for the coveted Golden Fork Award, and induction into the MWC Hall of Fame.
Come out and show your support and vote for your favorite!
Photos from 2017 Men Who Cook Dinner Dance