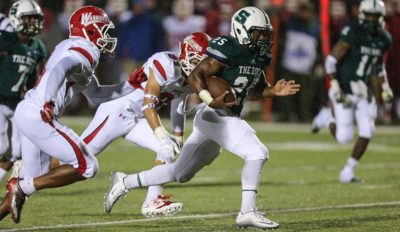 Slippery Rock University quarterback Roland Rivers III has been named the offensive player of the week in the Pennsylvania State Athletic Conference Western Division. Kicker Jake Chapla was named the special teams player of the week. Rivers had a total of seven touchdowns in The Rock's season-opener last week. He threw for 405 yards and six scores, and rushed for 67 yards and another score.
Chapla had eight extra points, breaking the all-time school record for point-after-attempts. He is now the second leading scorer all-time at Slippery Rock.
Despite winning their opening game 62-37 over Wayne State last Thursday, the Slippery Rock football team fell one spot to 11th in the latest Division II football poll. Grand Valley State jumped to from 12th to 10th after defeating Edinboro 35-10. National champion Valdosta State remains number one.
Slippery Rock will host Shippensburg this Saturday night at 6pm.