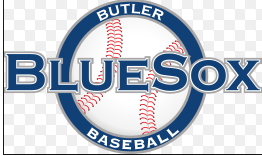 The Butler BlueSox clinched the first Prospect League Eastern Division title in their history with a 9-6 win over Chillicothe last night. The Sox pounded 13 hits in the game. Wyatt Daugherty earned his third save of the year. The Sox improved their league-best record to 35-21. The Sox lead West Virginia by 5-1/2 games after the Miners swept a doubleheader over Champion City Tuesday. Last night's victory by the BlueSox was their sixth in a row, and they have won 9 of their past 10. They play Chillicothe again tonight.
The Sox will host their first playoff game next Monday (August 7th). Tickets are available online at butlerbluesox.net or by calling 724-256-9994. Butler will face the Eastern Division runner-up on the road for the opening game, then host game two and a game three if necessary. Playoff tickets are the same price as the regular season.
This marks Butler's second trip to the playoffs in their nine seasons; the Sox were defeated by Chillicothe in 2014's divisional round.
The winner of the East and West Divisional rounds will face each other in a best-of-three game championship series on August 10, 12, and 13.