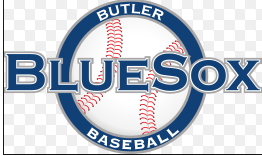 The Butler BlueSox defeated West Virginia 5-4 last night in the opening game of their Prospect League Eastern Division playoff series. The Sox scored the game-winning run in the top of the ninth inning in West Virginia. It was the first-ever post-season victory for the BlueSox, who host West Virginia tonight for game two of the best-of-three series. First pitch is 6:35pm. Tickets are available at Butler BlueSox dot net. If a game three is necessary, it will also be played in Butler Tuesday.
In the Western Division, Lafayette took a 1-0 series lead over Terra Haute with a 3-1 victory Sunday.
The BlueSox ended their regular season Saturday with a 15-10 victory over Lafayette. The win clinched the best regular season record overall in the Prospect League for Butler at 37-23.