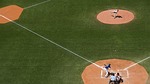 Major League Baseball Playoffs:
The Atlanta Braves topped the L.A. Dodgers 5-1 in the opening game of the National League Championship Series last night. The Braves were sparked to victory by a ninth-inning, four-run rally, that featured two home runs in the inning.
The game was played before about 11,500 fans at the neutral site of Globe Life Field, the new Texas Rangers ballpark, which was about 28 percent of its capacity. It was the first fans have been allowed in a baseball stadium this season. Game 2 will be played this evening beginning at 6:05pm.
The Tampa Bay Rays took a 2-0 series lead in the American League Championship Series yesterday with a 4-2 win over the Houston Astros. Former Pirate Charlie Morton tossed five shut-out innings, striking out five and he did not walk a batter. The hero of the game was Manual Margot hit a three-run home run for the Rays in the first inning, and then made a stellar catch in the second while falling over the right field wall at Petco Park, the San Diego Padres home stadium that's serving as a neutral site for the ALCS. Game 3 is set for tonight. First pitch is 8:40pm.
The Chicago White Sox announced Monday that Rick Renteria won't be returning as manger. Renteria led Chicago to a 35-25 record in the coronavirus-shortened season and their first appearance in the playoffs in 12 years, but they lost to the Oakland A's in their first-round series. Renteria became manager when he was promoted from bench coach in October 2016.