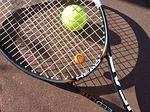 WPIAL Girls Team Tennis Tournament—
Knoch defeated North Catholic 5-0 in the Class 2A quarterfinals.
Boys Soccer:
–Seneca Valley-2 Butler-0.
–Knoch-5 Highlands-0.
–Mars-2 Hampton-1.
–North Catholic-3 Quaker Valley-2.
The Butler Middle School hockey team begins their season tonight when they face-off against Baldwin Middle School. The puck drops at 7pm at the Ice Castle Arena in Castle Shannon.