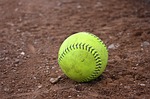 The Seneca Valley softball team will face Hempfield today at California University in the WPIAL Class 6A Championship game. First pitch is 4:45pm.
Armstrong and Trinity meet in the Class 5A title game at 2:30pm.
North Allegheny and Mt. Lebanon meet in the Class 6A baseball championship game tonight at the Washington Wild Things Park. First pitch is 7pm.
Shaler, Hopewell and Seton-LaSalle won WPIAL baseball titles yesterday.