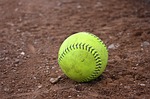 High School Sports:
–The WPIAL Baseball and Softball playoffs begin this week. Today the Knoch girls softball team will meet Uniontown in the Class 4A First Round. The game will be played at West Mifflin beginning at 4pm.
The North Catholic boys lacrosse team will travel to Trinity tonight in the Class 2A First Round. The match begins at 7pm.
The Mars girls lacrosse team will visit Canon-McMillan in the Class 3A First Round at 7pm.