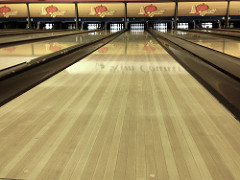 The Butler bowling teams swept Shaler 7-0 Wednesday at Family Bowlaway. Rocco Rice led the Butler boys with a 660 series with a high game of 233. Eric Devore added a 625 series. Marty Imhof had a 618 series and a high game of 230. The Butler boys improved to 7-1 this season. The Butler girls were led by Natalie Coughenour who rolled a 612 series with a high game of 213. Harley Kriess added a 558 series. The girls improved to 5-3.
The Butler program recognized its senior bowlers Wednesday: Brock Hepler, Harley Kriess, Paige Scott and Jonathan Wilbert.
The Freeport bowlers split with Apollo-Ridge. The Yellow Jacket girls won 7-0. The boys fell 5-2. Julia Cummings led Freeport with a 517 series. Colin Cummings led the Freeport boys with a 678 series and high game of 257.