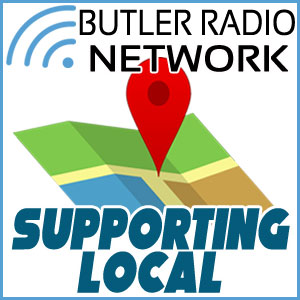 In light of recent events, all community cancellations, rescheduled events, or changes in operation will be listed below.
Local activities/event changes as a result of coronavirus concerns:
Categories include:
COMMUNITY
CHURCH SERVICES
COMMUNITY
Ales for Athletes canceled for 2020. Next year's event is scheduled for April 10, 2021 at General Butler Vagabond Center.
All AA and NA meetings at Butler Hospital – canceled until further notice
Area Agency on Aging – All Butler County Senior Centers are closed indefinitely
Area Agency on Aging -SAIL Exercise classes at Butler County Sr Cr & Westminster Church cancelled
ARMCO Park– Closed for this summer.
B.A.E.A. spring bingo at the Lyndora American Legion has been canceled
Bantam Jeep Festival canceled for 2020.
Butler Career T.R.A.C.K. will be closed until further notice.
Butler Chapter #45 Order of the Eastern Star – all events canceled until further notice.
BC3 – classes are online.
Butler County Drug & Alcohol Advisory Board meeting scheduled for Tuesday, June 16 at 7:30 a.m. will be held online. Anyone interested in participating in the meeting may send an email to djeneres@co.butler.pa.us in order to obtain the zoom meeting link and information.
Butler County Humane Society – closed to public
Butler County Special Olympics – all training & activities suspended
Butler County Senior Centers – closed indefinitely
Butler Fall Festival-canceled for September 19.
Butler Library  closed as are libraries in Evans City, Mars Area, North Trails, Prospect, Slippery Rock & Zelienople
Butler Little Theatre – all children's workshops suspended.
Butler Shrine Luncheon Club will cancel all meetings until further notice.
Butler YMCA- Healthy Kids Days (both branches) postponed -new dates TBA
Clay Township Municipal Building (by mail or phone only) meetings have been canceled until further notice
Cranberry Township -postponing or canceling all non-essential programming, meetings, and events
Cranberry Library -closed to the public until further notice.
Cruise-A-Palooza – canceled for June 28th, 2020.
Diocese of Pittsburgh –  TV mass weekdays 8 am, Sunday mass at 10 am-Armstrong Neighborhood Channel
East Brady Area Riverfest –  East Brady Riverfest Festival July 16-19 are canceled. We are still planning on having fireworks on Saturday night July 18th.
East Butler Presbyterian Church spaghetti dinner is canceled. Typically held 3rd Saturday of the month
Grace's Closet – Grace at Calvary Lutheran Church – No clothing donations are being accepted at this time
Grapevine Center -closed until further notice.  Warmline (724-431-2488) from 6 -9 pm/Daylight (724-283-1704)
Harmony Museum Postponed indoor auto show "4 Cars & a Pickup Made in Butler County." Future date TBA
Jennings Environmental Education Center– Celebrate the Bloom canceled for July 25th.
Light of Life Community Outreach of Butler closed until further notice
Maridon Museum – closed until further notice.
Moraine State Park Regatta August 1st and 2nd canceled. Will return August 7th and 8th next year.
Musicians Concert Band – canceled for the 2020 season.
North Washington Rodeo -Parade canceled for August 17th and Rodeo canceled for August 18-22, 2020.
PA CareerLink® Butler County -closed until further notice.
Penn State Extension –  In-person, nonessential events and programs sponsored by Penn State Extension through at least June 19 have been cancelled, postponed or moved to a virtual format due to the continuing coronavirus pandemic. These cancellations also affect Pennsylvania 4-H activities. 4-H summer camps scheduled through at least June 19 will not be held, and 4-H youth participating in animal science projects may not represent 4-H in livestock shows or sales at any county fairs held through June 19.
Penn Township VFD Mega Cruise at the Butler County Airport for July 11th canceled.
Pgh Business Exchange's  7th Annual Great Gathering Event-postponed until Wed., July 15th 2020 from 6-9 pm.
Redbank Valley Community Band concert postponed. Rescheduled date TBA
Rotary Meetings suspended for foreseeable future.
Salvation Army – feeding program is TAKE-OUT only, lunches distributed out of the back parking lot, Food Pantry is by appointment only
Saxonburg Festival of the Arts September 12th and 13th canceled.
Saxonburg Mingles on Main for this summer are canceled.
Slippery Rock University -canceled all on campus events & activities
South Butler Library is closed
Summer Dramatics Project – Due to the Covid-19 pandemic and the closing of facilities we are saddened to announce the cancellation of the Summer Dramatics Project musical "The Little Mermaid" this summer, July 23-26 at BC3's Succop Theater. We will be back next summer 2021.
The 89th Annual Saxonburg Volunteer Fireman's Carnival canceled for July 14th – 18th.
The 165th Big Butler Fair canceled for July 3rd – July 11th.
The Band Jam Grass Roots Music Festival is canceled for August 21 &  August 22 at Cooper's Lake Campground.

The Butler County Sports Hall of Fame has decided to postpone this year's annual induction banquet until 2021 due to the uncertainty of the current health pandemic. The banquet is held annually in April – and when the restrictions due to the Covid-19 pandemic first arrived in March – the date of the banquet was then pushed back to August. It has now been scheduled for April 24, 2021.

Any tickets purchased for the event this year will be honored at the banquet next April. Or if those who would like to have your ticket purchases refunded, can visit the Hall of Fame website 

www.thebcshof.com

.

The Jean B. Purvis Community Health Center has canceled the Cornerstone Award Dinner scheduled for June 26, 2020 due to the Coronavirus Pandemic restrictions.  The dinner has been rescheduled for April 23, 2021.

Tri County Workforce Investment Board Office closed until further notice. Can be contacted via email.
Zelienople Horse Trading Days July 16th-18th canceled.
Zelienople July 4th public events canceled, including parade, fireworks, and park activities.
CHURCHES
Bright Hope Community Church – Services have resumed in Butler
Diocese of Pittsburgh – masses canceled-TV mass weekdays 8 AM, Sun at 10 AM- Armstrong Neighborhood Channel
First English Lutheran Church -North Main Street, Butler – canceled until further notice
First United Methodist Church- canceled all services &  activities until further notice
Graceway Community Church – canceled until further notice, Sunday sermon is on Facebook.
Hill United Presbyterian Church closed for all activities and meetings. AA will still be allowed to meet.
North Street Christian Church – Services have resumed under certain guidelines. The Sunday Sermon will continue to be live-streamed at 10 am.
Rider Evangelical Lutheran Church –canceled all church services
St. Luke Lutheran Church & School (Butler/Cabot Campuses) – Canceled…events/gatherings/services
St. Mark's Lutheran Church – events canceled until further notice, Worship services resuming 9 am May 31st.

West Sunbury United Presbyterian Church  closed til further notice

White Oak Springs Church -canceled all services
Zion Lutheran Church Chicora, No services until further notice
If you have a community activity you'd like to add to our page, please email the information to newsdesk@bcrnetwork.com.