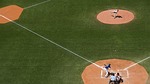 The Los Angeles Dodgers defeated the San Francisco Giants 2-1 last night to win their National League Divisional Series. Cody Bellinger hit a tie-breaking single in the ninth inning and Max Scherzer came out of the bullpen to earn the save. Mookie Betts had a post-season career-high four hits in the game to lead Los Angeles.
The defending World Champion Dodgers will visit the Atlanta Braves in the National League Championship Series Saturday night.
The American League Championship Series begins tonight in Houston when the Astros host the Boston Red Sox at 8:07pm. The game will be televised on Fox.
Despite a strong finish to their regular season that put them into the post-season, the St. Louis Cardinals have fired manager Mike Shildt.