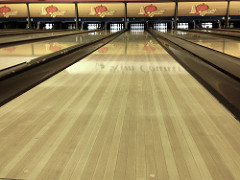 The Butler bowling teams split 7-0 decisions with Deer Lakes. The Butler boys winning performance was led by senior Brock Hepler, who rolled a 675 series with a high game of 243. Eric Devore added a 668 and high game of 248. Marty Imhof had a 606 series.
–The Butler Girls were led by Natalie Coughenour (Coke-a-nower) who rolled a 646 series with a high game of 225. Kaylee Lipp of Deer Lakes led all bowlers with 713 series and high game of 257.
Butler will host Shaler today for Senior Day at Family Bowlaway.