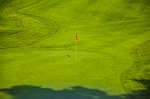 High School Golf:
–The Butler Girls defeated Pine-Richland 175-232 at Hiland Golf Course. Paige Scott was medalist with a 36.
–The Mars Boys defeated Highlands 204-254.
–The Freeport Boys defeated St. Joseph 252-286.
High School Football season kicks-off this Friday. Follow the Knoch Knights on WISR and the Butler Golden Tornado on WBUT.