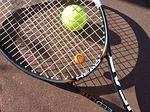 High School Sports:
WPIAL Team Tennis playoffs:
–Knoch defeated Mount Pleasant 4-1 in the 2A quarterfinals.
–Fox Chapel and North Allegheny moved on in the 3A playoffs, while Pine-Richland was eliminated.
Hockey:
–Peters Township-5 Butler-0.
–Kiski Area-4 Freeport-0.
Boys Soccer:
–Butler and North Catholic played to a 1-1 tie in overtime.
–Pine-Richland-5 Ambridge-2.
Girls Soccer:
–Butler and Seneca Valley played to a 1-1 tie in overtime.
–Freeport-3 Deer Lakes-2. Sidney Shemanski scored all three goals for the Yellow Jackets. Freeport improved to 13-4 this season, and host Armstrong for senior night tonight.
–Pine-Richland-3 Shaler-0.
–North Allegheny-8 North Hills-1.
–Indiana-2 Knoch-1.
Girls Volleyball:
–North Catholic-3 Butler-1.
The BC3 Women's Volleyball team lost just their third match of the season, 3-0 to Penn State-Greater Allegheny Monday. The Lady Pioneers will host the Western Pennsylvania Collegiate Conference playoffs Saturday. BC3 will play their first match at noon