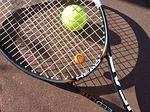 High School Sports:
The Knoch Girls Tennis team defeated Central Valley 4-1 in the WPIAL Class 2A Team Tennis Tournament quarterfinals Wednesday.
Boys Soccer:
–Mars defeated Freeport 5-1. The Planets have won five of their past six matches and are now 12-4-2 overall and 10-4 in Class 3A Section-1.
–Quaker Valley clinched the Class 2A Section-4 title and down North Catholic 7-0 last night. The Trojans fell to 7-6 overall and 7-4 in section play.
–Seneca Valley-1 Butler-0. Nathan Prex scored the lone goal of the game, as the Raiders improved to 14-0-1 overall and 11-0-1 in their section.
–Indiana-3 Knoch-0.
–Grove City shutout Sharon 11-0 to clinch the District 10 Region-2 title.
–Slippery Rock-6 Conneaut-0.
The AC Valley/Union football team will play their second straight Thursday night game – when they travel to Cameron County tonight for a 7pm kick-off.