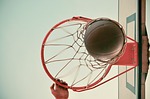 High School Sports:
Girls Basketball:
–Butler-60 Pine-Richland-51. Aubree Tack led the Golden Tornado with 15 points.
–Knoch-50 Highlands-33. Nina Shaw led the Knights with 26 points.
–Norwin-59 Seneca Valley-46.
–Mars-60 Plum-50.
–North Allegheny-52 Shaler-48.
–Union-47 Karns City-40.
–Grove City-49 Hickory-45.
Boys Basketball:
–Freeport defeated Armstrong 53-48. Vincent Clark led the Yellow Jackets with 23 points.