High School Sports: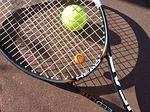 –The Knoch Girls Tennis team fell 3-2 to Sewickley Academy in the WPIAL Class 2A Team championship Thursday.
The Knoch Girls Cross Country team won the 2A class title at the Tri-State Track Coaches Association Championships at California University. The Knights Sammie Jo Barnes had a runner-up finish.
Seneca Valley finished second in the 3A team event. North Catholic's Julia Zalenski was runner-up in 1A.
The Butler Boys Cross Country team finished runner-up to defending state champion North Allegheny in Class 3A. Butler had four runners place in the top 11 overall, with sophomore runners Sage Vavro and C.J. Singleton were third and fourth. Skyler Vavro and Tim Patterson finished 9th and 10th. Zach Leachman of Mars had a runner-up finish at the event.
The Butler Girls finished fifth. Both teams travel back to Cal U next week to compete in the WPIAL championships.
The Butler Varsity Hockey team fell to Erie Cathedral Prep 6-3 last night in Erie.
Girls Volleyball:
–Butler-3 Seneca Valley-2.
–North Allegheny-3 Pine-Richland-0.
–Knoch-3 New Castle-0.
–Mars-3 Hampton-1.
–North Catholic-3 Avonworth-0.
WPIAL Boys Soccer Playoffs begin Saturday:
4A:
–Butler will host Connellsville Saturday at 2pm.
3A:
–Mars will host Ambridge Saturday night at 8pm.
2A:
–Freeport will meet Keystone Oaks at Mars high school Saturday at 6pm.
–North Catholic will face Elizabeth Forward at Norwin high school Saturday at 2pm.
Last night in the Girls 3A preliminary round, Trinity eliminated Laural Highlands 6-0 and wil meet 3A top seed Mars Monday night at Mars high school.