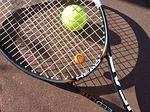 The Knoch Girls Tennis team swept Westmont Hilltop 5-0 in the 2A Quarterfinals. The Knights will face Scranton Prep Saturday in the semifinals at the Hershey Racquet Club beginning at 10am.
WPIAL Soccer Playoffs:
–The Mars Boys defeated Hampton 1-0 in double-overtime in the 3A Quarterfinals. Dane Beller scored in the 107th minute to keep the top-seeded Planets undefeated. They are now 16-0 and they will host South Fayette Monday night in the WPIAL semifinals.
WPIAL Girls Volleyball Playoffs:
–Seneca Valley defeated Latrobe 3-0 in the 4A First Round. The Raiders meet North Allegheny Saturday at noon.
–Pine-Richland defeated Upper St. Clair 3-0. The Rams will meet Oakland Catholic Saturday.
Tonight – the Mars Girls host Hopewell at 7pm. Freeport will travel to Laurel Highlands at 7pm.
–The PIAA announced Wednesday that all fall sports will have higher-seeded teams serve as the "home" team – if their home team meets required standards – instead of having neutral sites through the semifinals.