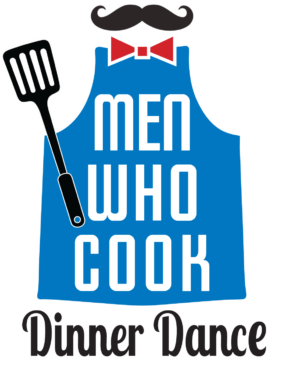 Men Who Cook
Dinner Dance

February 15, 2020
Butler Vagabond Center
Doors open at 6:00pm (no early admission)
BYOB (mixers provided)
Advance Tickets: $20 per person –Limited Quantities Available
$25 at the door*
*This event has sold out in the past.
Tickets may not be available at the door of the event.
Includes samples from all the chefs
Please bring a non-perishable donation for the
St. Vincent de Paul Food Bank.
They are especially in need of canned vegetables & peanut butter
Fundraising proceeds benefit the St. Vincent de Paul Food Bank
Presented By


The Men Who Cook Dinner Dance is a fun event that benefits St. Vincent de Paul's local food bank. In the past year, the food bank has helped 13,700 people. All attendees are asked to bring non-perishable items to donate to the food bank. While all items are appreciated, they are especially in need of canned vegetables and peanut butter at this time.
We've rounded up local men in our community who love to cook. Our lineup includes local celebrities, businessmen, educators, and political leaders  showcasing their culinary abilities for this good cause.
The doors open at 6:00pm for this BYOB event. Each attendee will receive a ticket to vote for their favorite dish. The chef who receives the most tickets wins the The Golden Fork Award and official induction into the MWC Hall of Fame. At each tasting station there will also be a "tip" jar. The chef who earns the most tips throughout the evening will win our Money Talks award. All tip money will be donated to the St. Vincent de Paul Food Bank.
After the sampling and voting,  enjoy an evening of music and dancing with DJ Pat Gallagher. There will also be a basket raffle and other fundraising games with proceeds benefiting the St. Vincent de Paul Food Bank.
Tickets for the event are available at the Butler Radio Network studios at 252 Pillow Street and online HERE.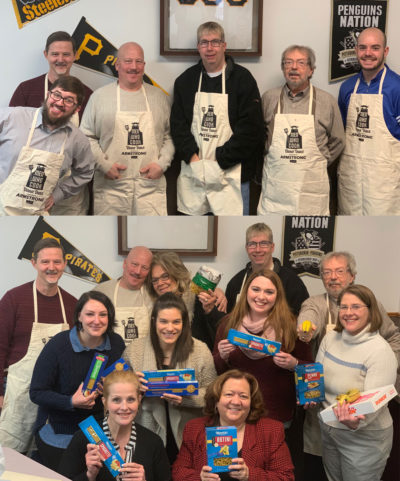 The Butler Radio staff is gearing up for Men Who Cook and collecting donations for the St. Vincent dePaul Food Bank.
Meet The Men
Check back as more are added
Jake Beluso, PennDot


Lasagna

Kevin Boozel,

Butler County Commissioner
Spicy Rice
Utah Burgess, Shady Lady Productions


Mexican Specialties

Defending Golden Fork Champion, Jimmy Chiprean,

Miller's Shoes


Pasta Spectacular

Jon Ciafre


Pumpkin Cupcakes & French Vanilla Cookies
Dan Cunningham, Rodfathers Car Club
Banana Cream Cheesecake & Italian Chocolate Cheesecake
Howie & Brock Dittman, Helping Butler County


Pulled pork & infused waffle morsel

Tyler Friel, 

Butler Radio Network


Butternut Puree

Rick Galante


Ravioli and dessert

Justin Grew,

Armstrong


Hot sausage sliders & roasted potato salad
Jack Hutchinson, Butler Post Office
Apple cake with rum sauce
Henry Ibinson, Butler Radio Network
Pepperoni Poker Chips
Jay Kline, Butler Radio Network
Big Mac Salad
Tom Knights, Butler Twp
Spaghetti stuffed garlic bread
Nick & Greg Krelow, PennDot & Butler Twp
Seafood Newburg with rice pilaf & shrimp shooters
Dan Kos, Missing Links Brewery
Beef Beer Barley Soup
Dave Malarkey, WISR Radio Host
Stout banana bread
Mark "Sparky" Mares, PennDot


Stuffed pepper soup

Collin McElhaney, Butler Radio Network


Chocolate dipped delights

Bob O'Neill,

Butler City Police Chief
Mini BBQ Meatballs
Pat Parker, WISR
Mexican Cole Slaw

Butch Rocco,

Local Classic Car Enthusiast
Bourbon Balls
Gary Schneider, Schneider's One Hour Heating & Air Conditioning
Eclair Dessert
Jared Schneider, Butler Area School District
German Rouladen
Ron Willison, Wise Snacks
Wicked Baked Bean Nachos
Our men are fierce competitors, vying for the coveted Golden Fork Award, and induction into the MWC Hall of Fame.
Come out and show your support and vote for your favorite!