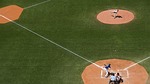 The Major League Baseball Draft begins tonight with the First Round. One player from western Pennsylvania could be just the sixth player ever taken in the opening round. Austin Hendrick is a power-hitting outfielder from West Allegheny, and is projected to be selected anywhere from the 12th to 20th pick.
The Pittsburgh Pirates have the seventh overall selection.
The draft will be televised on the MLB Network beginning at 7pm.
The Major League players union sent a second proposal to owners Tuesday – offering to cut the regular season to 89 games – but still refusing any economic adjustment.