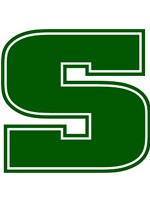 The Slippery Rock University football team led all programs in Super Region One with 11 selections to the Don Hansen Football Gazette All-Region team that was announced Monday. Rock quarterback Roland Rivers III was named the Offensive Player of the Year and head coach Shawn Lutz was named Coach of the Year to headline the list of honorees.
Slippery Rock placed seven players on the first team, including five on the offensive side of the ball. Receivers Henry Litwin and Jermaine Wynn Jr. and offensive linemen Chris Larsen and Ryan Podgorski joined Rivers as first team honorees, while defensive end Chad Kuhn and linebacker Brad Zaffram represented the defense on the first team.
Defensive tackle Jeff Marx was named to second team honors, while kicker Jake Chapla and cornerback Eric Glover-Williams were named to the third team, along with Wynn as a return specialist.
All first and second team honorees will advance to the All-America ballot. The Don Hansen All-America team will be announced in early January.
Lutz earns the first Regional Coach of the Year honor of his career after taking home the PSAC West Coach of the Year award in each of the last two seasons.
Slippery Rock won the Super Region title with an unblemished regional record that included wins over the No. 2, No. 3, No. 4 and No. 5 teams in the Super Region bracket of the NCAA Division II playoffs. The Rock won the PSAC West title for the second year in a row, won their third overall PSAC title in the last six seasons and reached the NCAA Division II Semifinals for the second time in program history while finishing the year ranked sixth in the American Football Coaches Association national rankings. SRU posted a 13-1 record and was one of just four teams in the nation to win at least 13 games in 2019.