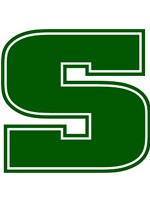 The #9-ranked Slippery Rock University football team reached 10-0 for the first time in program history with a dominant 56-7 win on the road at Gannon University Saturday to close out a second straight perfect Pennsylvania State Athletic Conference Western Division record.
Quarterback Roland Rivers III set the SRU single-season and career passing touchdown records and kicker Jake Chapla broke the all-time PSAC record for scoring by a kicker to highlight the individual performances on the day.
The Rock become the first team since 2009 to roll through the PSAC West schedule undefeated in back-to-back years, joining Cal U as the only teams to accomplish that since the league expanded to eight teams in each division. Slippery Rock will travel to face undefeated Kutztown in the PSAC Championship next Saturday, where the winner will stake claim to the No. 1 seed in Super Region One in the upcoming NCAA playoffs.
The Rock racked up 513 yards of total offense with 340 passing yards and 173 rushing yards. Gannon finished the game with 181 yards of offense with 144 rushing yards and 37 passing yards, including zero passing yards in the second half.
Rivers was nearly perfect on the day, completing 20-of-26 passes for 294 yards with four touchdowns and no interceptions. He also rushed for 15 yards to finish with 309 yards of total offense. His four TD passes give him 36 on the season and 64 in 22 games at SRU, breaking the program's single-season (32 set by Tanner Garry in 2017) and career (60 set by Nate Crookshank in 2007) passing touchdown records.
Chapla booted six extra points in the game to bring his career scoring total to 362 points, topping the PSAC all-time record for scoring by a kicker that was previously held by Bloomsburg's Dan Fisher at 361 points.
Game time is still unknown and will likely be determined by Monday. The most likely options are between noon and 3 p.m. Hear the game and the upcoming NCAA playoff games on The Rock Station 97.7fm and at 977rocks.com !