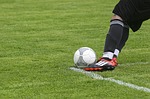 WPIAL Soccer Playoffs tonight:
–The Butler Girls will host Mt. Lebanon tonight at 6:30pm in the 4A First Round.
–Seneca Valley Girls will host Penn-Trafford also at 6:30pm.
–The Mars Girls will host Penn Hills at 6:30pm in the 3A First Round.
–The North Catholic Boys will travel to McGuffey at 6:30pm in the 2A First Round.
The Mars Boys won their First Round 3A game Saturday and will meet undefeated West Allegheny Wednesday in the quarterfinals.
Girls Volleyball Playoffs:
–Mars will host Blackhawk in the WPIAL 3A Preliminary Round tonight at 6pm.